Our Hair and Skin Educational Courses
The goal of our courses is to create extensive discussion about the fundamental and new scientific concepts and challenges of skin and hair biology, with particular emphasis on its relevance to the cosmetics, nutraceutical and pharmaceutical industry. We assemble an impressive faculty of internationally renowned speakers who will share their knowledge, ideas and opinions covering key topics in the science, as well as current and next generation models for studying skin and hair biology and responses to test agents.
After a very successful first "Hair biology & translational research in a nutshell" course in 2019, with 27 participants from all over the world, we are proud to announce that Monasterium Laboratory will be finally hosting the second edition of our International Training Course.
2nd Hair Biology & Translational Research in a Nutshell
International Training Course
June 9-10, 2022 Münster, Germany
The 2nd Hair Biology & Translational Research in a Nutshell International Training Course will count prominent, well known invited speakers:
Prof. Amos Gilhar, Dr. Andrei Mardaryev, Prof. Andrew Messenger, Prof. Desmond Tobin, Prof. Francisco Jimenez, Dr. Gill Westgate, Prof. Kevin McElwee, Prof. Kristian Reich, Prof. Mike Philpott and Monasterium Laboratory's Scientific Leadership Team members: Prof. Ralf Paus, Dr. Marta Bertolini, Dr. Janin Edelkamp, and Prof. Tamás Biró.
Scheduled lectures will cover relevant topics in Hair Follicle Physiology and Pathology such as Hair Growth, Hair Greying, Alopecia Areata, Hidradenitis Suppurativa, Acne Vulgaris, Scalp Psoriasis, and discuss novel therapeutic targets and strategies. Along with a tour through our facilities, our new Program also features Q&A sessions, interactive poster exhibition with the Monasterium Laboratory team, and networking opportunities.
This exclusive course will be
limited to only 50 seats

. Do not lose your chance and register right now! Hurry up!
Download the Program here:

To see the complete program for the 2nd international training course "Hair biology & translational research in a nutshell" June 9-10, 2022 click here
Registration Fees
EARLY RATE (until March 31, 2022): 1400€
REGULAR RATE (after March 31, 2022): 1500€
Registration Fees Include:
Access to our event June 9-10, 2022
Exclusive attendance to all Oral Presentations, Live demonstrations, Poster sessions
One night stay at one of the most beautiful hotels in Münster
Networking lunch and dinner on the first day and breakfast and networking lunch on the second day.
Access to our facilities and participation in the lab tour and assay demonstrations.
The course will take place at various locations, arranged with all your needs to live a complete experience during your participation in our Training Course. We will start our course at the beautiful Schloss Wilkinghege (June 9) and move to our Monasterium Laboratory facilities on the second day (June 10).
Please don't hesitate to contact us for general information: Nadine Quenbaum (n.quenbaum@monasteriumlab.com) / Iván Martín Rodríguez (i.martin-rodriguez@monasteriumlab.com)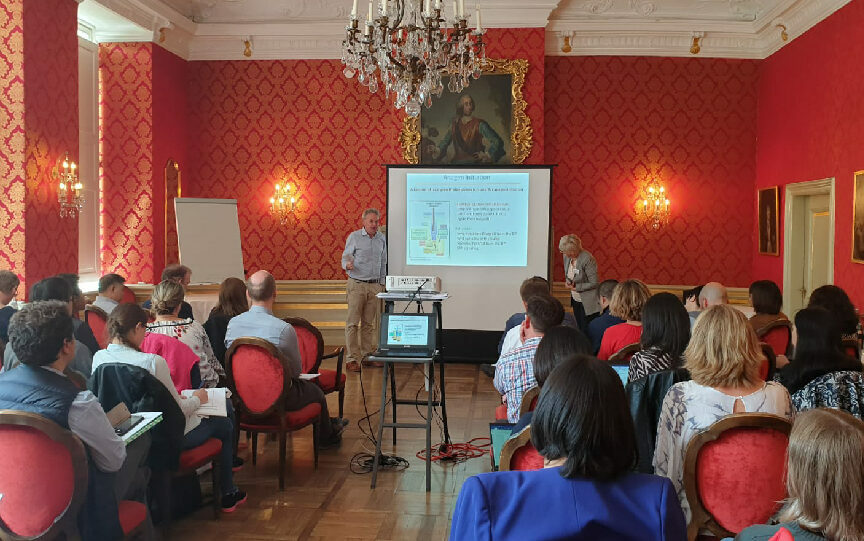 Health and Safety protocols
Health Self-Declaration Form
To ensure our course takes place in a safe and healthy environment completion of a health self-declaration form will be mandatory. The form will be sent to you to be filled before the start of the event.
Onsite Safety
To ensure the health and safety of yourselves, your peers and our onsite staff, as per the CDC guidelines, we will be requesting that all attendees present a valid certificate of vaccination and wear a mask throughout the whole event, with the exception of when presenting, eating or drinking. If you are showing symptoms of COVID-19, feel unwell, or have been in contact with someone that is, please do not travel or attend the event and contact Nadine Quenbaum (n.quenbaum@monasteriumlab.com). If you develop symptoms onsite, please alert a member of staff immediately.